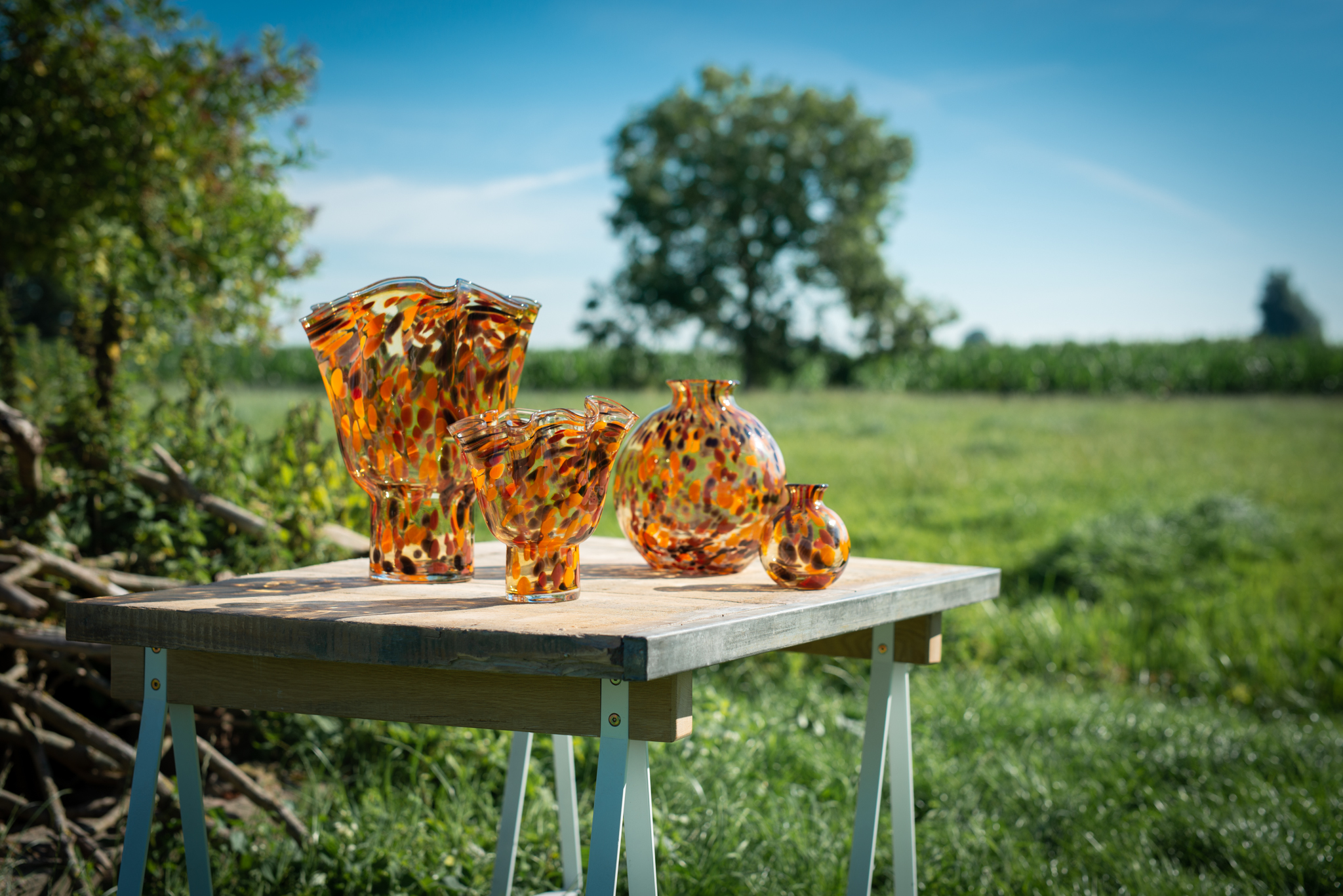 About Us
Who we are
We are Marcel and Daniëlle van Bronkhorst, professional florists originally. After 8 years of experience in floral design in a charming old shop in Woerden, we chose to focus on a broader range of decorative products. Soon the shop became too small for our aspirations, we simply did not have enough room to present and sell all those lovely vases and other glassware. We had to make a choice: a bigger flower shop or change our focus and shift to glassware?
We chose mouth blown glass!
Our intention was not only to sell it, we were also very interested in designing traditional glass. It was in 1996 that we started as an importer-wholesaler with the import and distribution of glassware. This enabled us to search widely for mouth blown glass of the best quality! We directed our attention not only to vases for flowers, but also to other glass items increasing the beauty and value of any interior design.
Fidrio Basics.
The Fidrio Basics collection is available at the Cash and Carry centres TICA Aalsmeer and Trends & Trade in Venlo where you can buy Fidrio Basics per piece.
Fidrio Exclusive Collection.
A few years ago we introduced the Fidrio Exclusive Collection.
Each Fidrio Exclusive Collection product is a result of dedicated craftmanship of glassblowers from all over the world and is blown exclusively for Fidrio. Since every object is blown seperately in a wooden mold, our glassblowers confer each item a unique shape, color and size.
The Fidrio Exclusive Collection is sold exclusively via our showroom in Harmelen (near Utrecht). In our showroom our customers gain new ideas and get inspired by our products and their presentation.
When you have a login code you can easily place an order in our Fidrio webshop. It is also possible to meet with one of our account managers. They would very much like to visit your company in order to show the Fidrio collection. Fidrio does not deliver to consumers directly. However, we will be more than happy to refer the consumer to our dealers.
Glass is a timeless material that fits perfectly with any interior. Within the Fidrio Exclusive Collection we carry at least two collections per year .
Glass will continue to inspire us!